Tuesday 19 May, 2009 sailing from Råå (pronounced as "raw") to Barsebäck
Position 0730 UTC 56* 17.9 N 12* 26.3 E
In the morning we go visit the museum to see Golden Lady, Kurt B's Monsun.
We can only look at it through the windows, since the museum is closed
today. Grrrr…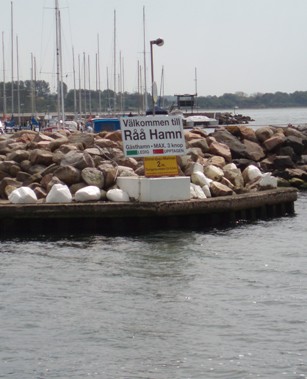 Christina is not feeling well today and is taking it
easy aboard. Joakim and I walk around the cozy little town and find the
library, outside of which Kurt B got a cobble stone set with his name
engraved in it. We find the stone and walk back to Isabell. Then it is time to
leave at 1300 UTC. Sailing for Lomma, we end up at Barseback harbour
instead. We sailed with full genua and main sails up. In the evening the
wind dies down and we have to start the engine once more. Icebreaker
Oden is in the drydock at Landskrona. We try and call her on the VHF,
but no answer. Too bad. Had been fun to talk to the crew again. Then a
heavy thunderstorm is closing in on us from across to Denmark. We seek
shelter in the nearest harbour, Barseback. While turning into the port
entrance, which is very poorly marked out, we run aground lightly. Get
loose by backing the engine in reverse and inch into the harbour. Here
we tie in with a single other guestboat, a Danish S/Y called Moray. Two
other HR monsun boats are spotted in this small harbour. Both are not
masted yet, but in the water. During the night heavy thunder and hard
rain pass over us. The Danes haven't closed their hatches and their boat
is swamped during the night. Strange habit, to leave portholes open
when it is raining! We are well and dry. Greatful for another day at
sea.