Tuesday 7 July 2009
position 1200 UTC 56*03.29N 15*51.25E
Lifted the dinghy at 10 a.m. and filled water and diesel.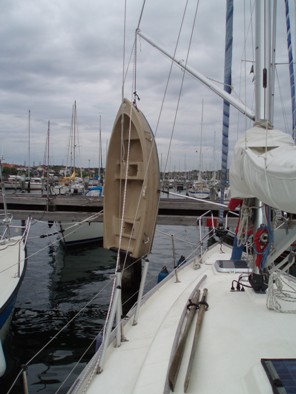 After filling up the fridge and all possible food containers aboard I untied from the buoy in Mocklo outside Senoren and sailed for the city of Karlskrona to get Christina from the train station. At 12.10 I arrived in the port of Karlskrona and waited for Christina. There she was, now we would be off for a trip around the Baltic Sea islands of Oland and Gotland. We decided to sail inside the archipelago of Eastern Blekinge and then out into the Baltic at Langoren, past the town of Torhamn. We have a good SW wind (6-7ms) and get into the open sea at 1425 UTC. Off we are toward the north, into the Strait of Kalmar (Kalmarsund). We go into the port of Bergkvara on the mainland Sweden at 1830 UTC. Go for a walk and fix some stuff around Isabell. A dutch twomaster called Lange ORM is our neighbour in port. In the evening we meet Lineke and Tjeerd, the couple aboard, and their little shipsdog. We drink hot coffee in their very roomy ship and finish off some wine and cheese. Very nice. We give them some instructions about how and where to sail along the Swedish eastcoast. They plan to sail up to Gota Kanaal and go through the canal to Gothenburg, before they sail home to the Netherlands again. We say goodnight quite late and they have a quick look inside Isabell. They had always wondered how a REAL Hallberg-Rassy looked inside… We have a bit less space than them, but it is good enough. Goodnight! Today we sailed about 33 NM.