Saturday 11 July, 2009.
We get up early and are ready to slip our moorings at 0730 a.m. Goodbye Kalmar! With just the genua out about a third of the way we make good speed out and under the Kalmarsund bridge (Ölandsbron).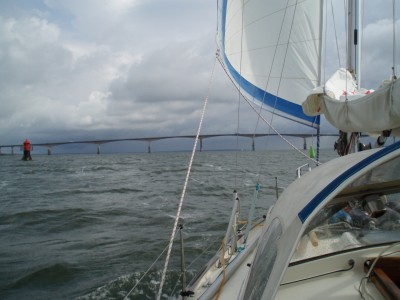 We have southerly winds (nice!) with an average of 6-10 ms strengths. Our destination is Byxelkrok on the northern tip of the island Oland. The barometer is still very low and it rains a few times. At 1425 we drop anchor north of the town of Bornholm on the island Oland. Lunch and some planning details. We still have a long way to Byxelkrok.
An hour later we are on our way again, now with both sails up. But it does not last long. We have a problem. Our instruments are not working anymore. Due to some shorting in the battery circuit everything went black. In these narrow waters with many vessels and very bad visibility we decide it is too dangerous to continue our way north. Therefore we first try and run on the engine for a while so that we at least can have navigation light on. But the weather gets worse during the afternoon and we head into the port of Sandvik, a small marina (very nice) on the Oland side of Kalmarsund.
In port I try and fix the electricity and we connect to the electricity in port to make sure the batteries are filled. Solar panel is not doing so much good in this weather. Dark and misty!
But we eat a good meal and enjoy strolling around the town. There is a windmill right across from the marina, and we look right at it. Where have we seen this view before? Yes, now we know. It is the picture on the cover of the Swedish harbour guide (Hamnguiden 2009). Funny, to see it in real life size.