Sunday 12 July 2009
Position at 730 UTC Sandvik marina
57*04.3 N 16*51,4 E
We take it easy this Sunday morning. Go around the town of Sandvik, buy some food at the local ICA and get ready to sail around noontime. At 1130 UTC we cast off and are on our way. The batteries are fully loaded and I have fixed all the wiring so no problems with the electricity on-board today. Good! The weather has cleared up as well and it is a nice day with SW winds between 6 and 10 ms. Barometer is going up!
After a very nice sailing leg we get closer and closer to the island Blue Jungfrun in Kalmarsund strait. We see it from about 18 NM distance and it grows bigger and bigger from the sea. This island is where all the uggly and bitchy women meet at Easter according to Swedish belief. As a matter of fact, there are no houses on it. It is a national park and a very interesting geological formation. See picture!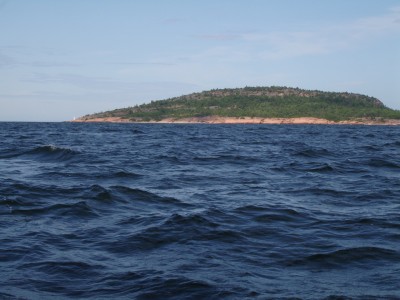 At 1545 UTC we go into the port at Byxelkrok. Many holiday yachts crowd this very popular harbour. It is still sunny, so after tying in to the dock between two Finnish boats we take a walk in the town and have a barbeque on the beach. So nice to enjoy the warmth of the sun after a few days of rain and hard wind… Lovely. We get Isabell in ship-shape for the long leg across to Gotland tomorrow. Then it is an early night. Hope the weather continues to get better.