Tuesday 21 July 2009, winds 14-16 ms from SW. We stay put and enjoy Herrvik and surroundings.
Wednesday 22 July 2009. The wind has calmed down, now only 8-9 ms from the SW. We sail off at 0730 UTC. Nice winds and good clear weather ahead.
After half the distance to Ljugarn, our first target, the wind shifts to W and stronger than 10 ms. We are now forced to tack into the wind and the waves become higher than 2 m. So we decide to let go of our Ljugarn plans and continue to the harbour at Ronehamn. A better angle to the wind and waves. Making good speed through the water, we have the current against us. Nonetheless, we make good speed and get to Ronehamn at 1645 UTC.
A very exciting sailing leg. Before we get into port, a dense fog catches us out at sea. It gets quiet and wet. But we have our instruments and get into port without problems. There we find a nice place to park Isabell alongside a wooden jetty. We are safe.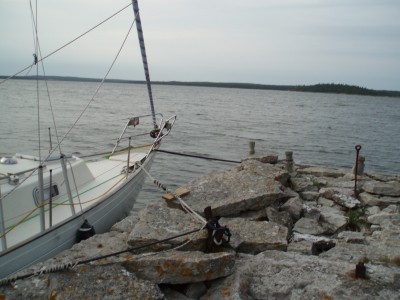 Isabell moored against the old jetty, with reinforced mooring lines!